Darwin's weed bed is hot with thistles, nettles, borage and grass and lies in a sleek pool of stripy lawn.
The cyanotype process was developed by Anna Atkins in the 1850s and had a decade of popularity with mostly women and children. The chemicals must be painted on in the dark and are then exposed to the sun. The results are unpredictable and in the UK the sun is only strong enough in the summer months to make the prints. Anna Atkins slipped her work into scientific institutions such as The Linnaean Society and The Royal Society, which prohibited her admittance as a professional but accepted her gift as the work of an insignificant amateur woman.
Darwin's Weed Bed
Cyanotype on paper.
2014.
Wildflowers of Britain is a ubiquitous book from the 1970s and a gift from my friend Justine. Whilst making work at Kettle's Yard I found some pressed flowers in Helen Ede's books. Helen has often been missing in the telling of the history of Kettle's Yard and I wanted to refer to her presence in the house, in a quiet way.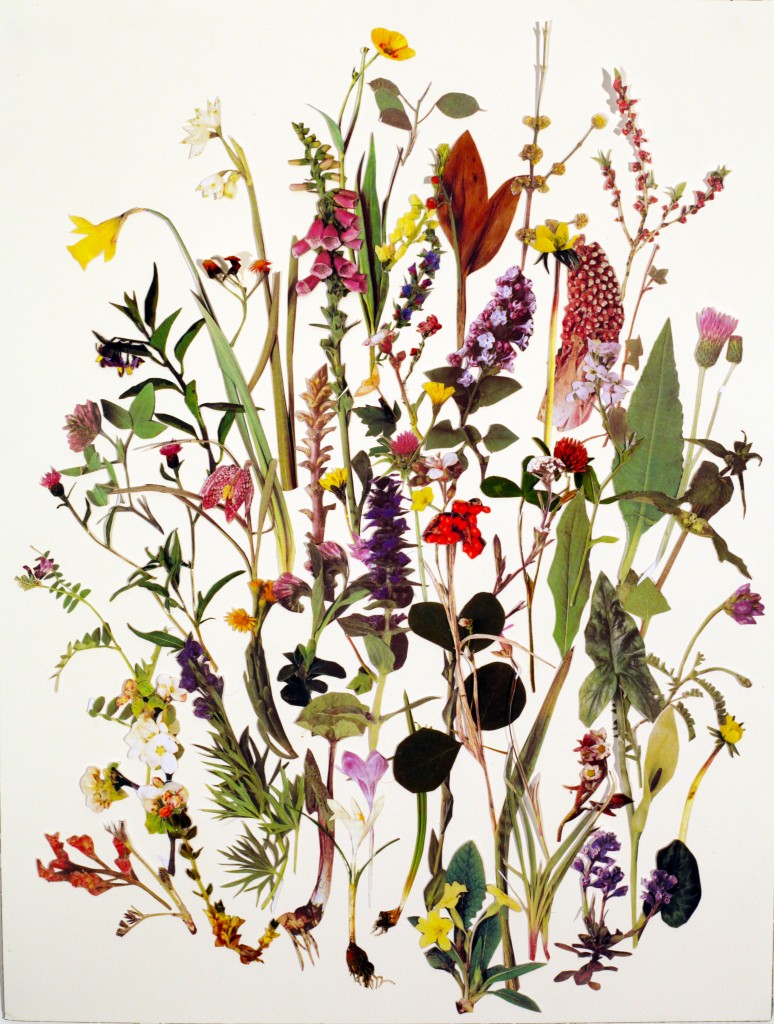 Florilegia
Cut Wildflower Encyclopaedia on paper
2014.
Spellbound
Watercolour and Ink on aper
2014.
Dali made the furniture for the set of Hitchcock's Spellbound including the table that inspired this drawing. The film describes Shell Shock;  PTSD in contemporary parlance and the hero Gregory Peck is haunted by his traumatic memories which reveal themselves in his domestic surroundings: a pattern drawn with a fork on a linen tablecloth reminds him of ski tracks in the snow. Even the furniture portends menace.